Nick was kind enough to put in a little overtime this weekend, covering that the Twins have secured exclusive negotiating rights with Japanese middle infielder Tsuyoshi Nishioka with a $5.5M bid. It's important to know that this doesn't mean that Nishioka is going to be a Twins next year. The Twins still need to sign Nishioka, and almost half of the Japanese players who are posted end up not signing with the team that signed them. So far, that includes the most recent posting, pitcher Hisashi Iwakuma, who seems to be at an impasse with the Oakland A's.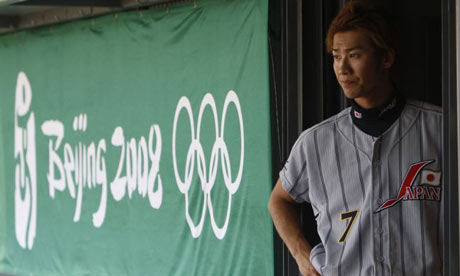 So what will it take to sign Nishioka? So far, there haven't been any public salary demands, but history might give us some hint. I can only find one Japanese player who was won with a posting fee around $5M and who signed with a major league team. He also happens to have been a middle infielder that jumped to the majors when he was fairly young. And, maybe not coincidentally, the Twins nearly acquired him last year.
That player is Akinori Iwamura, who lasted four years in the majors, but is probably at the end of his MLB career. From 2007 through 2009, Iwamura played primarily third base and second base for the Tampa Bay Rays before he was traded to the Pirates last year. The Twins thought they had acquired him, going so far as to open up a 40-man roster spot and notify players that were included in the trade. But the Rays ended up choosing the Pirates, the Twins ended up trading for JJ Hardy, and Iwamura and his injured knee had a terrible season in Pittsburgh and Oakland.
However, for the first three years of that contract, Iwamura was a solid contributor, if unspectacular. He hit .281, but got on base at a .354 clip, above the league average. Defensive metrics showed him being average at second base, and a little above average at third base. He was left-handed, he cut down on his strikeouts compared to Japan, and provided a little speed, averaging about 10 stolen bases over those three years. In short, he was a enviable #2 hitter.
With the imminent departure of Orlando Hudson, that's something the Twins could really use, so I wondered how Nishioka compared to Iwamura. And almost across the board, it's good news.
First, Nishioka is younger. Iwamura was 28 when he played in his first year in the majors, while Nishioka will only be 26. That also means the Twins have the rare opportunity to add a Japanese player who is entering the prime years of his career.
Nishioka also looks like he's a better contact hitter than Iwamura was. Iwamura was always good at working a walk, but he also struck out 300 times in his last two years in the Japan Pacific League (JPL). Nishioka hasn't been quite as proficient at drawing walks, but he's also struck out less than half as much. That sounds like a pretty good trait for a #2 hitter.
Nishioka is also quite a bit more aggressive on the bases. Iwamura consistently swiped about 10 SB per year, both in the JPL and with the Rays. Nishioka has averaged 25 stolen bases over the last five years. Again, that looks like a good guy to have at the top of the order.
(Right about now, some sabremetric 101 graduate is planning on pointing out to me that Nishioka's 67% stolen base percentage last year isn't really a benefit to a team. Maybe it isn't on a per run basis over the regular season. But in the playoffs, I want that weapon in my holster versus specific teams. And I'm even more excited now that Victor Martinez just joined the division.)
At least anecdotally, Nishioka seems to be better defensively. Nishioka has won two gold gloves in the JPL, one of which was at shortstop. As far as I can tell, Iwamura never had that kind of reputation.
Finally, Nishioka's skill set seems to translate better to the major leagues. Iwamura was revered in the JPL in part because he was a home run hitter (which also explains his high strikeout rate). In the majors, he hit all of 14 big flys over those three years. Nishioka's skill set is based more on speed and small ball, similar to Ichiro.
But back to the original reason I looked up Iwamura - how much did he sign for? He signed a 3-year deal for $7.7M, which ended up costing the team about $4M per year if you include the posting fee. That sounds reasonable, especially because it include a fourth year team option.
Opinions differ on what would happen if the Twins sign Nishioka. Many believe his defensive skills play better at second base, and so the Twins might retain Hardy. And that's a fine idea, if the team has money for both.
I don't think they do, so I predict it will mean Hardy ends up being traded. The Nishioka signing would allow them to replace Hardy with more speed, replace Hudson at #2 in the order AND save them some money. Then either Nishioka or Alexi Casilla would end up playing shortstop.
Which is one of two concerns I have about this development. Will manager Ron Gardenhire be able to entrust shortstop to either Casilla or Nishioka? In the past, Gardenhire has seemingly placed as much importance on attitude as ability at that position. I can't believe he would ever trust Casilla there, and I wonder how much he could trust a Japanese player, especially if he doesn't have a great command of english. (I haven't been able to find out well Nishioka speaks english.) Would Gardy be able to help himself, especially if Nick Punto or Matt Tolbert are languishing on the bench?
The other big concern about Nishioka is his health. He's battled injuries his entire JPL career, including a serious knee injury. In fact, that's why his JPL manager Bobby Valentine moved him to shortstop: to protect his lower body.
But if the Twins do end up investing about $4M per year for three years, that's an acceptable risk to take. (For that matter, at just 26 years old, I wouldn't be shocked to agree to a four-year or even a five-year deal.) Nishioka looks like a great fit for the Twins in both the short and long-term. And like last year's trade for Hardy, it gives them quite a bit of flexibility over the rest of the offseason.